PC Local Multiplayer Game with Twitch Play – Loaded Cow Productions
Beatstep Cowboys is a 2 player game that combines quick real-time strategy, and rhythm-based game play. The result is a competitive game that is easy enough for a little kid to pick up but also provides advanced players the opportunity to stretch the limits of their logical and predictive thinking. The game also implements a unique Twitch Play aspect, where two channels  battle it out by cooperating through the Twitch Chat interface.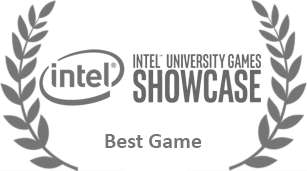 See more on the game: www.beatstepcowboys.com
Design
Worked with fellow designers to design levels and rapid prototype new character types.
Designed and documented the userflow and interface for the game, including creating wireframes.
Conceptulized and designed the Twitch Play Mode, including a custom interface that gives the illusion of real time feedback and add excitement to the gameplay experience.
Development (NodeJS, Unity and C#)
Implemented the Twitch Play functionality in NodeJS and the Twitch Chat Socket API.
Contributed to UI Implementation and cutscene scripting system.